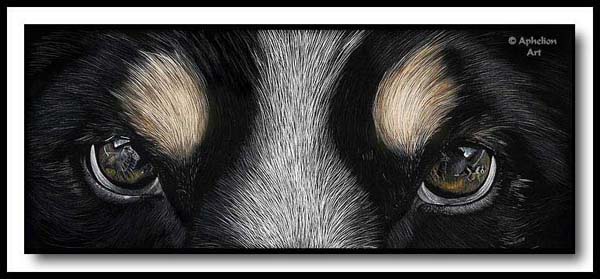 To view 100% details of this work click on the image above. To return to this page use your back button.

The Story Behind the Art

I don't recall how the idea for this artwork came to my mind, but I have always loved close ups on the eyes of animals. As they say the eyes are the pathway to the soul, and what is more to the heart of a Border Collie than herding sheep! This piece is especially fun at art fairs where I get to watch people's reactions when they discover the 'stuff in the eyes', as most people do not notice it is anything more than a dog's face at a distance. This work has traveled to quite a few exhibitions and brought me quite a few prizes and is usually a crowd favorite.

"Moment Of Reflection"
14"x20"
Scratchboard and Ink
Border Collie
Framed Original - $2,800
e-mail to purchase
Awards and Exhibition History

2008 Meeker Sheepdog Trial Art Contest
2010 Art Show At the Dog Show (Wichita, KS) - Purina Award of Merit, 1st Place Other Mediums Category
2012 International Society of Scratchboard Artists Annual Exhibition ~ ARThouse Gallery; Glen Ellen, CA