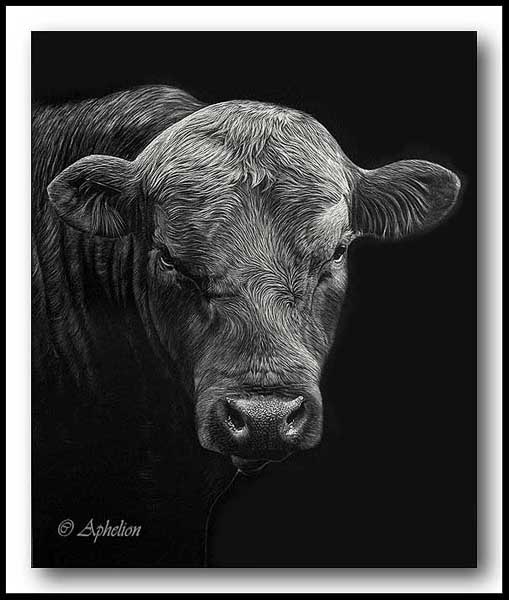 To view 100% details of this work click on the image above. To return to this page use your back button.
The Story Behind the Art
My junior year of college at Oregon State University I was fortunate to be a member on a national champion livestock judging team. While to the average person this doesn't sound all that impressive, this team was made of 10 college students and we practiced judging livestock classes for between 25-60 hours a week. We traveled all over the USA competing against other schools on placing classes of livestock and oral reasons on why we placed our classes the way that we had. Our teams claim to fame was cattle judging, which we were nearly undefeated in over about 8 competitions. During my time judging I have stared into the face (and other body parts) of many an Angus bull evaluating them within a judging class. One of the best parts of being on the team was developing a keen eye for small details, which I use in my art daily!

"Angus Bull"
18"x16"
Scratchboard

Original - $3,400
e-mail to inquire
Prints Available
Awards and Exhibition History
2013 Art for the Sangres Invitational Show (Westcliffe, CO)