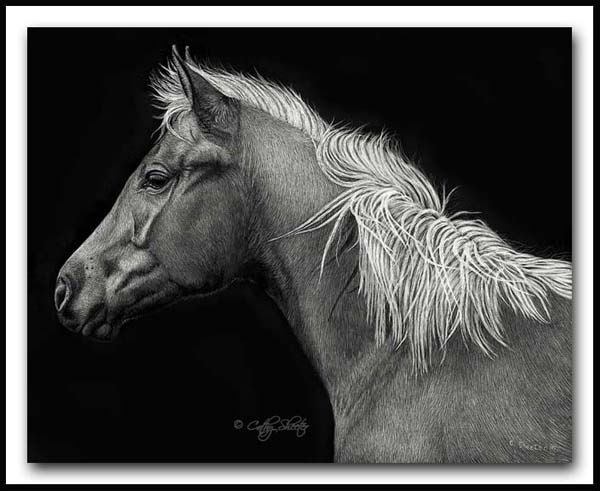 To view 100% details of this work click on the image above. To return to this page use your back button.
The Story Behind the Art
On a photography trip to North Dakota my boyfriend and I decided to visit a mustang sanctuary. As we waited for our tour to begin I walked over to check out the pens of horses waiting for adoption. Out of the 100+ horses in the pens this little palomino colt really caught my eye. I liked the way he was built, his wild mane, and enjoyed the overall interactions with the other horses (spunky but not a bully). He did not go home with me, but his photos did and I felt compelled to capture this little piece of the American west, who I hope was adopted into a great home.

"At Attention"
10"x8"
Scratchboard
American Mustang
Original Donated to the Rotary Club of Loveland in conjunction with the 2012 Colorado Governor's Show.
Awards and Exhibition History
2012 Colorado Governor's Show Donation to support the Rotary Club Fundraiser (Loveland, CO)