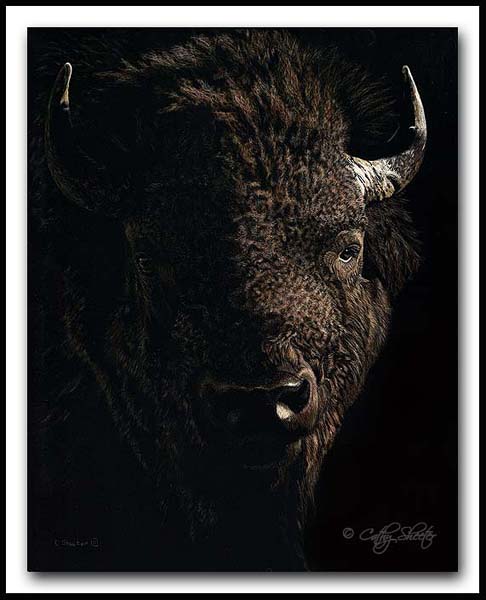 To view 100% details of this work click on the image above. To return to this page use your back button.
The Story Behind the Art
The American Bison is one of the most iconic animals of the west. Numbering in the millions at one time and then hunted to dwindling numbers, today they remain in few of the areas they were once found. I have been fortunate to photograph them in Custer State Park in South Dakota, as well as Grand Teton National Park and Yellowstone National Parks. Each and every time I see a group of them I try to envision what it would have been like with the huge herds that used to roam. My reference photos for this bull were taken in Grand Tetons on one of my annual trips there.

"American Icon"
10"x8"
Scratchboard and Ink
American Bison
Original SOLD
Prints Available
Awards and Exhibition History

2011 Greeley Stampede Invitational Western Art Show (Greeley, CO)
2011 Lines Into Shapes Show (Estes Park, CO) - First Place Drawing
2012 Colorado Governor's Invitational Art Show (Loveland, CO)